His and Her's Matching Sets
Do you like things traditional?
This is our comfiest ring profile available, and is also the most traditionally shaped band alongside the D-Shaped ring. These plain bands make the perfect matching set, without looking too masculine or feminine; therefore they are the perfect representation of the unity in your relationship. The ring widths displayed are 4.0 mm (left) and 6.0 mm (right).
Fancy something more unique?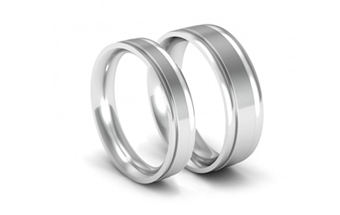 Want something that sparkles?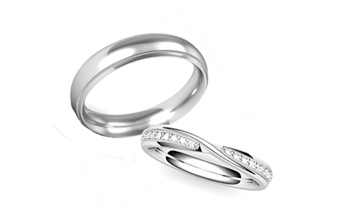 This set is perfect for the bride with the desire to match her wedding band. The twist ring is perfect for rings with round cut solitaire diamonds, as well as compass set and 6 claw engagement rings. This ring showcases little milgrain lines, which you can match with one of our classic court patterned rings, perfect for the groom to match his bride-to-be.
His and Hers Wedding Rings
Making plans for your big day can often become overwhelming. There are just so many details to consider and decisions to be made. One of the most important is your selection of wedding bands for both the bride and groom. Our advice is to give yourself as much time as possible to consider all of the options. This will help ensure that your final selection will be treasured throughout your married life.
As shown in the selected his and hers wedding ring sets highlighted in this page, there are beautiful traditional and contemporary designs to choose from along with some fantastic designs which include dazzling diamonds. One of your primary considerations is, of course, budget. It's important to remind yourself that your wedding rings will be with you for much longer than your wedding cake or the fizz served at your reception. So set yourself a realistic budget that reflects the value that these important pieces of symbolic jewellery.
Are Matching Wedding Rings for You?
Many happy couples are simply not bothered about whether their wedding rings are a matching set. When considering your wedding bands it's a good idea to find out what you would each prefer. Visiting a few jewellery stores together, either online or in your high street (or both) is a really simple but effective way to discover one another's preferences. If you find that you are both drawn to similar styles, metals and finishes then a matched pair of wedding rings is likely to be pleasing to you both
Another consideration to bear in mind is do you want your wedding band to match your engagement ring? This is important when these two rings sit side by side on your finger. Matching certain elements in the ring design is an effective way to establish a clear connection between the two. For example, choosing the same precious metal and the same design style (such as traditional).
It's also a good idea to give some thought to how the matched rings will look on one another's hands. Men's hands are often larger than women's, so a chunky ring design, which works well on a larger hand, may be a bit too much for a smaller hand. Similarly a delicately designed ring might not be exactly right on a larger hand. Matching ring sets in which one ring is broader than the other is an effective option to consider. And of course, you must try-on your proposed matching rings before you commit to purchasing them - which is why OrlaJames.co.uk provides a 'try before you buy' sample wedding ring service, enabling you to check out your selected rings, in the comfort of your own home, allowing you plenty of time to make your decision.