Get your FREE Ring Sizer
Ensure a perfect fit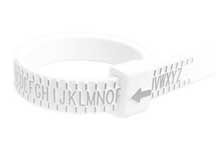 FREE. Receive your ring sizer at no cost.
CONVENIENT. Get FREE delivery to your door.
ACCURATE. Get a precise measurement for peace of mind.
Accurate measurement
Order our FREE ring sizer tool to measure your ring size accurately.
Easy to use, put it on and read off the indicated size.
Suitable for men and women.
How to Use your Ring Sizer
The multisizer works like a belt. Simply loop and push the end through to form a ring shape.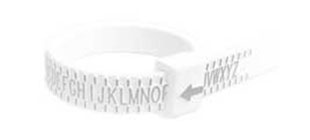 Slip the multisizer onto your finger. Adjust to give a comfortable fit. Check that it slips over the joint of the finger without difficulty.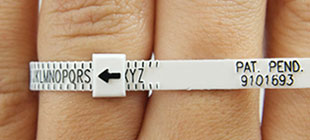 Simply read off the indicated size where it feels most comfortable.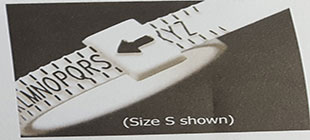 Handy tips to get an accurate ring size
If you're buying a ring as a surprise
Try on one of their rings, and mark on your finger where it fits. You can then use the ring sizer to measure to that size.
Can I use string instead?
Yes, and some ring retailers recommend it. But it isn't a good idea because string can stretch and twist. You need something a lot more solid for an accurate reading. If you're spending money on a gorgeous diamond ring, it's worth making the effort to get the size right.
Finger sizes can change through the day
We recommend taking a few measurements during the day to find the most comfortable fit overall.
Does temperature matter?
Temperature is important because you actually shrink and grow depending on how cold or warm it is. Cold fingers are smaller than hot fingers, so if you measure your finger when you're too hot or cold your reading won't be accurate. Wait until your body temperature is just right, neither too hot nor too cold. It's also best to measure at the end of the day because fingers tend to be smaller early in the morning.
When two sizes seem to fit
Always go with the larger one.
Choosing between two sizes?
What if you've identified two ring sizes, both of which seem to fit just fine? It's best to go with the bigger size. Plus, as a general rule, the wider the band the larger the size. If you'd like a wide wedding band, move up a size and you'll find it much more comfortable. Choose your regular size and your ring might feel a bit tight, simply because it's wider than average.
Big Knuckles?
Some of us have bigger, more prominent knuckles than others, and men tend to have bigger knuckles than women. It helps to measure the base of your finger (at the palm end) and the knuckle separately, then pick a suitable size somewhere in between the two.
Narrow vs Broad Band
Narrow bands: select the size that fits closely over the joint of the finger.
Broad bands: it's advisable to choose the next size up to ensure a good fit.
Based outside the UK, Europe and Australia?
Different countries have different systems for measuring ring size. If you already know your ring size, you may want to use our ring conversion chart to see convert your ring size.
See ring size conversion chart
Already know your ring size?
Try a FREE ring sample
Order a sample wedding ring, and you can wear it at home before you buy. You'll know you're making the perfect choice, and your sample order is FULLY REFUNDABLE.
How to order a sample ring